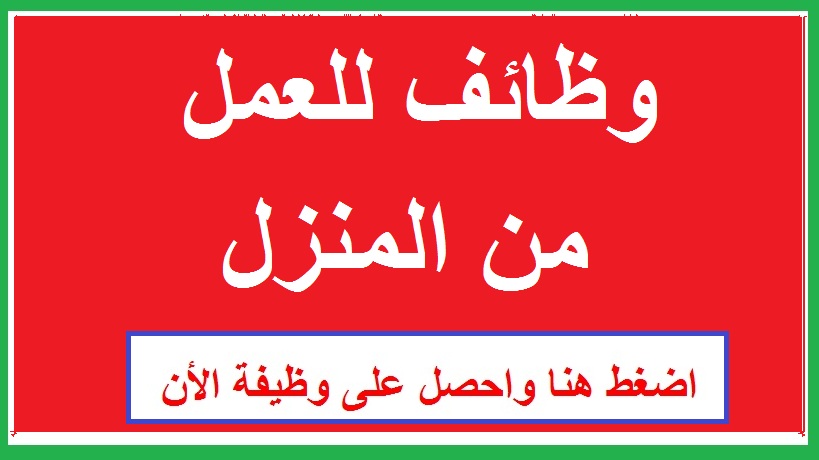 Required Mechanical Engineers (Production)
to work at TEPCO as a R&D Mechanical Engineer
Required to be 2011 or 2010 graduates
with grade at least Very good
send CV's at :
jobs_tepco@yahoo.com
alexandria
"IT company looking for talented web developer
For each of this programming language
(Asp-php- java –android)
... If you interested please send your updated cv
hr@ultranet.com.eg
"Cost Analyst"
Key Result Areas:
• Provide decision-making information by collecting, analyzing, and reporting cost data.
• Support the Planning Engineer in accomplishing the requirements as set by the Management which includes ensuring all costs in connection with our production/service are timely, accurate, and comply with our scope of work.
• Implementing and monitoring standard work procedures for product cost tracking.
... • Support multiple divisions with complicated production facilities
• Preparing, analyzing, and tracking monthly reports to Management.
• Preparing, analyzing, and tracking monthly material savings.
• Preparing analysis for monthly standard margin variances.
• As directed, assisting in the preparation of the appropriate quarterly, half yearly and annual reporting packages for Management meeting.
• Monitor the implement Company's business strategy
• Manage the planning process (Forecast and Budget) and establish the planning criteria in accordance with the general directives of the company.
• Ensure that all internal and external reporting are completed timely and accurately.
• Analyze risks and opportunities and present to the Management.
• Identify and evaluate deviations from Budget and Forecasts, communicate with the relevant department managers to ensure that remedial action is taken in each of the functional areas impacted.
• Establish and verify standard costs, operating performance and materials consumption.
• Qualification:
• Post Graduate Degree in Business Accounting with strong financial analytical skills
• To support plant operation decision-making by estimating,
• Collecting, analyzing, updating and reporting costs.
• Preferably to have ( CMA, CPA, ….), with gulf experience, Should have previous experience with substations or manufacturing company Interested Candidates can send their CVs as a word document on
kareem@idgeg.com
01065538502See Moreena Maher
software quality assurance eng.
2 years exp
major education : computer science
very good package
careers@rmglobalservices.com
HSE SPECIALIST
male
3-5 years exp
job location : minia
m.arafa@hr.royalcement.com
alexandria
helpdesl specialist
1-2 years exp
pls mention the job tittle
hr@biscomisr.com
call cneter agent
2 years exp
very good package
shereen.adel@tamiregypt.com
Vimov company located in Alexandria is currently hiring Software Engineers with excellent Java background to work as Junior and Senior Android Developers.
If interested, please visit
www.vimov.com
and apply online or just send your cv to
jobs@vimov.com
A very big Multinational Company in Dokki is looking for "Administrative Assistant" with the following qualifications:
-3-4 years experience in Administration
-Fluent English is a MUST
Please send your CV to:
get_your_job@hotmail.co.uk
and write "Admin Assistant" in the subject line.
شركة الحلو للأثاث فى مدينة نصر والمهندسين والعبور تطلب محاسبين و محاسبات وموظفة hr..مؤهلات المحاسبين
1- بكالوريوس تجارة دفعة 2010 او ما قبلها
2- إجادة عمل قيود اليومية
يرجي ارسال السيرة الذاتية علي
accounting@elhelow.com
ستكون المقابلة يوم الجمعه10-2-2012 بمقر الشركة فى 48شارع احمد الزمر بمدينة نصر اخر عباس العقاد بجوار شركة انبي ( سنقوم بارسال ايميل او رسالة للمناسبين لعمل المقابلة)
Operations Director Manage technical needs of merchants and cardholders, and maintain accuracy and validity
pls. send your cv for
jobs@fsc-egypt.com
System Analyst / Application Administrator
Job Description
• Assists in the development, testing, operations and maintenance of application software and database systems Work performed under direct supervision Debugs, tests, installs and documents programs
• Provide technical consulting and respond to error reports, problems or questions
... • Analyze, define and document system requirements for data, workflow, logical processes, interfaces with other systems, auditing, reporting requirements and production configuration
• Support constant working of application software, troubleshoot and resolve software and connectivity problems, including user access and component configuration
• Write and maintain functional and technical specifications
• Create test plans, test data sets and automated testing to ensure all components of the system meet specifications
• Test programs and databases, identify errors and make necessary actions
• Analyze, install and test commercial software for internal use
• Provide assistance on application software related issues of other departments: reporting and data consolidation, data verification with partners on transactions, etc
• Manage application data to give users the ability to access, relate and report information in different ways
• Develop proactive working relationships with employees, Train users and answer questions
• Consult with local and mobile staff to determine business and functional requirements on active and new/prospective products and identify solutions to resolve those needs
Job Qualification
• At least three years of experience in above descripted tasks
• Ability to define problems and collects data, establish facts and draw valid conclusions
• Ability to develop systematic testing plans for problem resolution
• Ability to write reports, business correspondence and procedure manuals
• Ability to work as part of an application development team; create document work for maintenance in a production environment, create task lists, timelines and deliverables, work to meet project schedules determined by others
• Ability to develop formal application specifications and project plans using common documentation tools such as Visio, Microsoft Word and Microsoft Project
• Ability to read, analyze and interpret general business documentation, professional journals, technical specifications and project management documentation
• Strong analytical, process management and reporting skills
• Ability to write SQL scripts
• Strong MS-Excel knowledge
• Ability to self-manage assigned tasks
Resumes to be sent to
Nourhan.lokman@bee.com.eg
Technical Support Engineer
• BSc or similar undergraduate qualification in an appropriate technical subject (eg Computer Science, Electronic Engineering) or equivalent combination of education and experience
• At least 3 years of technical experience
• Proficient in standard Microsoft products and applications, including: Microsoft Office (Outlook, Word, Excel, PowerPoint, Visio, Publisher, One Note), Microsoft ISA, Microsoft Advice Directory, etc MCSA or equivalent Certification is an advantage
• Familiar with operating systems, such as Windows 7, Vista, XP, Server 2003 and 2008 Knowledge of Linux, and Mac is a plus
... • Experienced with operation and connectivity of networking devices (ie hubs/routers/modems/switches) CCNA/Networking+ or equivalent certification is an advantage
• Basic knowledge of HTML, XML, JavaScript and Web design
• Basic knowledge of working with graphics editing software like Photoshop, CorelDraw etc
resumes to be sent to
Nourhan.lokman@bee.com.eg
Receptionist needed
A reputed software development company requires a pleasant looking and well groomed. Candidate should be well versed in Reception duties and good in English language. 2 years experience in the same position. The ideal candidate must prior experience in handling admin & reception, have good personality, excellent communication skills, handling office supplies etc. suitably qualified candidates may send their CV with a recent photo to:
joboffers777@hotmail.com
Write "Receptionist" in the email subject line.
needed for multinational company in egypt : chemist \QHSE
experience : senior level - 5 years
languages : perfect english
send c.v to :
info@maharahr.com
call us : mob \ 01090012400 - 01090012402 - 01090012401
مطلوب للعمل فى شركه عالميه فى مصر :
فنى شبكات صرف صحى
خبرة : لا تقل عن سنه
برجاء ارسال السيه الذاتيه :
info@maharahr.com
الاتصال : 01090012400 - 01090012401 - 01090012402
We are brand maker by one goal to build up our company as
a multinational brand for innovation. excellence and professionalism
in the advertising and marketing.
1- Creative: fresh graduate up to 3 years experience. (Ref.C 001)
2- Graphic Designer: fresh graduate up to 3 years experience. (Ref.GD 001)
... 3- Web Graphic Designer: fresh graduate up to 3 years experience. (Ref.WGD 001)
4- Finalizer: minimum 2 years experience. (Ref.FZ 001)
5- Marketing: fresh graduate up to 2 years experience. (Ref.M 001)
6- Secretary: minimum 2 years experience. (Ref.SE 001)
7- Production Print: minimum 3 years experience. (Ref.PP 001)
People living in the 6th of October and near by are preferred
Interested candidates are invited to send their updated resumes with recent photos donating
the reference code above in the subject field in confidence to:
info@brandmaker-eg.org
telephone: 38 30 51 44 mobile: 010 08 44 70 29 / 011 10 64 44 15
مطلوب فنيين خبرة في صيانة و اصلاح أجهزة الحاسب الالي, لاب توب, ماسح الضوئي, طابعات و شاشات (PCs, Laptops, Scanners, Printers, Plotters and Monitors)
ارسال السيرة الذاتية علي فاكس رقم: 22916058 أو
E-mail:
salesadmin@abs.com.eg
الوظيفة : عامل بمزرعة دواجن
الشركة : شركة مزرعة الوفاء_ إحدى شركات عثمان أحمد عثمان
العدد المطلوب : 20 عامل
مكان العمل : مزرعة تربية الدواجن بالمريوطية – الهرم " قد تطلب ظروف العمل تغيير موقع العمل "
... مواعيد العمل : 6 أيام أجازة كل 24 يوم عمل متصلين " الإقامة بموقع العمل "
الخبرة : لا يشترط الخبرة
السن : من 19 – 30 سنة
المؤهل : لا يشترط المؤهل
الوظيفة الأساسية: المحافظة على نظافة و طهارة مزارع مشروع الدجاج و الإلتزام بإجراءات السلامة الوقائية المقررة.
تفاصيل التعيين :
- العمل تحت الاختبار لمدة 3 شهور براتب 750 ج
- يتم التعيين بعد فترة الاختبار براتب 900 ج صافى
- يتم منح مكافأت و منح إجادة للمجتهدين فى العمل
- بيئة عمل مستقرة
- تأمين إجتماعى
- تأمين طبى
من يجد فى نفسه الكفاءه المطلوبه أو يرغب فى ترشيح أحد المؤهليين للإنضمام للمجموعة
يتم إرسال البيانات الشخصية على :
ashehata@osman.net
للإستفسار :
الإتصال مباشرة برئيس قسم التوظيف للمجموعة من 10 ص و حتى 8 م على الرقم التالى : 01148229997
Fluent in French and English... do u have an IT background... send your CV at
sragheb@antal.com
Subject line: French IT
مطلوب عدد 100 من الشباب من الجنسين للعمل بالصيدليات الكبرى فى القاهره و الاسكندريه
-مسئولى تسويق وبيع منتجات عالميه متخصصه فى العنايه بالبشره
-مؤهل مناسب
-لا يشترط الخبره فى البيع
-الراتب 1350 جنيه شهرياً + تأمين طبي + عمولة تصل الى 800 جنيه شهريا
... ... -مواعيد العمل 6 ايام من الساعة 2 ظهراً حتى 11 مساءً
ارسال السيرة الذاتية+صوره شخصيه حديثه
info@houseofmanagementco.com;tohami@link.net
Required number of 100 young people of both sexes to work great in pharmacies and Alexandria-Cairo officials market and sell global products specializing in skincare-qualified apt-does not require experience in sales-salary £ 1350 per month + Commission + medical insurance up to 800 pounds per month ... ... dates work 6 days from 2 pm until 11 pm send CV + picture of modern personal
info@houseofmanagementco.com
;
tohami@link.net
مطلوب طبيب اسنان خبرة جيدة في الخلع والتعامل مع المرضى للعمل بمركز طبي بالاسكندرية منطقة العوايد
----------
akrammasoud2000@yahoo.com
A Female Secretary is required for a marketing company in al mohandisen.
English & Computer and office management .
Plz send C.V on:
info@mast.com.eg
We need a graphic designer to design mobile applications user interface , Web interface , and games interface.strong knowledge of css html is required , very high competitive salary if you have good experience , send your CV and previous work to
info@lascivio.co
Int'l freight forwarder located in Alexandria requires the following
- Operation (Import & Consolidation)
- Operation general cargo (Import & Export)
- Rate suppliers (Import & Export)
- Sales representatives (Import & Export for containers & general cargo)
Experience is required, not less than 3 years in the same field.
Please send your C.V. to
president@fslco.net
Will be ready to receive your C.V. from 12/2/2012 to 16/2/2012
Alfayed Company – Nasr city – Egypt
There are a job vacancies :
Sales outdoor ( Males & Females )
Experience or not
Please send your C.V with Photo ( Very Important )
alfayed_career@mail.com
Or contact us: 0106 130 6987
فى الشرقية .....مطلـــــــوب مسئولى تسويق من الجنسين ....لايزيد السن عن 23 سنه ....العمل من الساعة 11 صباحا حتى 4 عصرا.........يوم واحد فى الاسبوع
للاستفسار:يرجى الاتصال عى الارقام التاليه
01113442666
01061004818
مطلوب لشركه اجهزه طبيه بمصر الجديده مهندسين خريجى هندسه طبيه للعمل مهندسين مبيعات مطلوب من الجنسين خبره لا تقل عن سنه يرجى ارسال السيره الذاتيه على الايميلات التاليه
meditegypt@link.net
alaaeldean_elkhwaga@hotmail.com
Company needed :
Job title : Collection "out door "
Location : Cairo - Maadi
Gender : Males " only "
Fresh Graduated
Salary : Basic 500 + Commission + transportation
Please send your resume to:
amiraboshra.egy@ipcegy.com
متنسوش تسجلوا ايميلكم هنا علشان نبعتلكم كل الوظائف الجديدة على الايميل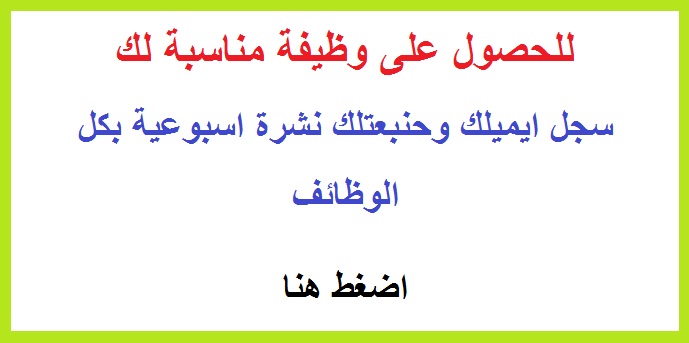 ---
,/hzt lojgtm 2012 ,/hzt lpgg j;hgdt ,/hzt lik]sdk ,/hzt ulhg ,/hzt ,/hzt ohgdm