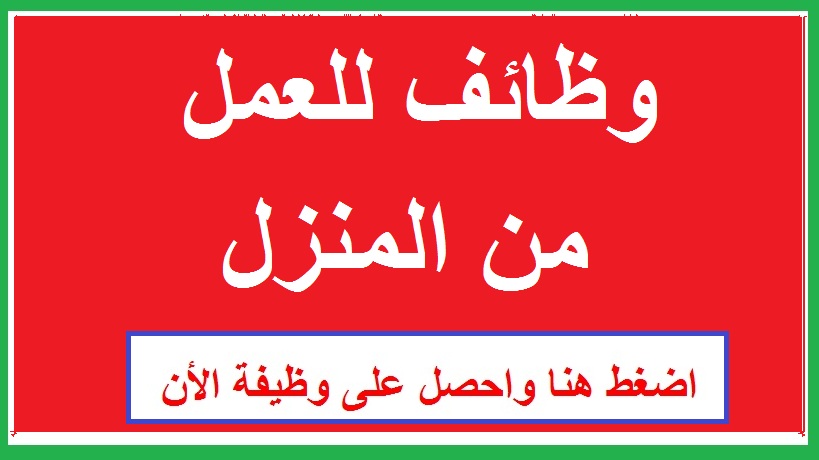 IT Rec Egypt
Our client is well known daily newspaper seeking for the following
info@itrecegypt.com
Portal Project Manager 5 years experience in a the same discipline and 2 years in Project Management experience is a must knowledge of both theoretical and practical aspects of project management
مطلوب للسفر للسعوديه :
- مدرسين بجميع التخصصات ( ابتدائي - اعدادي - ثانوي ) .
- العمل بمناطق مختلفه داخل المملكه العربيه السعوديه .
- يحدد الراتب بالمقابله حسب الخبره .
- ترسل السيره الذاتيه + صوره شخصيه الي
egyrec65@yahoo.com
- يرجي كتابه المهنه المرسله في الخانه الخاصه ب ( الموضوع - subject ) في الايميل .
محمد ابوبكر
مطلوب للعمل بمركز الجامانيف بمصر ممرضات مؤهل عالي و متوسط (3 إلى 5 سنوات خبرة) ..للتقدم للوظيفة تبعث السير الذاتية على العنوان البريدي التالي :
gkcairo@link.net
Position: Accountant
Job description: preparing different accounting budgets
Location: advertising agency in KSA
Job Type: Full Time
Gender: Male (Is a Must)
Experience: 2- 3 years
Language: Excellent command in both written and spoken English (is a must)
Computer Skills: Very good user of Microsoft Office
Qualifications:
•Experience in Advertising Agency to work in one of the major.
•Excellent communication skills especially presentation skills.
•Ability to learn new tasks quickly.
•Self motivated.
•Creative thinking.
•Ability to work under pressure.
•Ability to work individually or as an active team member.
•Presentable.
•Able to build excellent relations with others quickly.
If you are interested send your CV in a WORD format to
merge@mergecareer.com
And mention the job title in the E-mail subject (Accountant)
Khaled El Masry
Recruitment Specialist
Mob: 01095653299
Company: Merge to recruitment
Urgently required for (Excel-Pharma) fast growing pharmaceutical company in the field of Cosmo-medical, medical Representatives at (all governorates) have the following conditions:
1) Graduated from science or veterinary medicine.
2) Had past experience in the same field is an asset
3) Males or females with age not exceeding 28 years old
If you have these conditions please send your updated CV to the following email
(
Excel-pharma@hotmail.com
)
Basic salary starts from 2500 LE.
Cairo office: 3 Ahmed Amin st, Dokki. Tel: 02 37 48 2266 Alex office: Seedy Beshr –Faisal city Building 61 - 1st Floor. Tel: 03 53 32 504
Only for (FMCG ) experience
JOB TITLE:- Sales Unit Manager should be (FMCG ) experience
JOB DESCRIPTION:
1. Implement the Sales building blocks fundamentals to develop and monitor the operation, taking corrective actions as necessary and achieving volume targets by brand by section consistent with district target & Company Targets.
2. Monitor/Control the implementation of high standards of quality, by controlling the freshness, expiry, damages within his managed area of responsibility.
3. Ensure signing and implementing agreements with customer as per principal's guidelines to achieve superior in store presence and optimal SKU's.
4. Control and maximize the efficiency / report Unit spending of budgets / Allocations, remaining within authorized limits, guidelines and deadlines to utilize these budgets in delivering unit objectives.
5. To follow up/control collection operation in order to ensure sales flow, improve the financial FD picture & to maximize our bottom line profit
6. Contribute to company strategies & business plans development based on experiences and competitiveness in the market to ensure perfect execution.
qualifications:
Age Not more than 35 Years
Years of experience 4-9 Years (FMCG)
Excellent user of MS office and internet
High interpersonal and communication skills
Fluent English
contact mail: Send your C V to :
human.jobs@yahoo.it
*Note: please attach recent photo to the CV , and write the job title as a subject of the mail
Opportunity in Doha,
Leader Company in personal, green transportation, developing products that transform the way you work, play and live is looking for Female Sales and Marketing coordinator, fluent in English, presentable, articulate and can push sales targets.
Benefits (6000 QAR salary + Accommodation + Transportation + Medical Insurance)
Please send your CV along with recent photo and cover letter explaining why you believe you will fit for the position on:
Egyptian.Recruiter@Hotmail.Com
indicating "Attention Ms.Gomez" in the subject field
A Management Training & Consultation company needs:
Web Developer
Experience: 0-1 year experience
Gender: Female
Very good English language
If you are interested send your CV at
hr@nexusacademy.com
HR Supervisor needed urgently (ASAP)for a multinational company in the 5th Settlement:
- 4-6 years of experience
- Fluent English is a MUST
- Comp & Ben is the core of this post, however, Recruitment & other HR functions are great assets
- Male candidates are preferred
- Occasional travel abroad
- Salary range 10,000-12,000
Please send the updated CV on
cvrnabil@gmail.com
...
Company name: Industrial Engineering Company for Construction and Development (ICON)
Job Title: Procurement Engineer
Required Candidates: Fresh graduate to 2009.
Education: Bachelor of Engineering Preferred Civil or Architecture.
If you are interested as Procurement Engineer
Please submit your CV to
hr@iconegypt.com
or
sahar@iconegypt.com
.
Please bear with us while we diligently screen the applications. We will contact you to take things further should your qualifications match our requirements.
job Title: call center Representatives
Location: MAADI Gender: Any
Age: (20-35)
Education status: Grads only
JOB DESCRIPTION:
off shoring representatives
• To work on various outbound and inbound sales,marketing&customer service
campaigns.
• Conducting sales in the financial and healthcare industry to consumers in the USA.
Job qualifications:
1. English fluency is a MUST
2. College degree
3. Excellent communication skills
4. Understanding of the American culture is a PLUS
5. Previous sales experience is preferred
Working hours:
• (Monday - Friday) from 3:30 pm - 12:00 am (when time difference with the USA is 7 hours)
• (Saturday & Sunday) are fixed days off
Transportation
Door to door starting from 12:00 AM
Number of positions available: 20
Contact email:
jobs@centrogs.com
and specify in the subject
فرصة للعمل فى مجال المبيعات وخدمة العملاء بشركة اتصالات كبرى
فرصة للعمل فى مجال المبيعات وخدمة العملاء بشركة اتصالات كبرى
السن لا يزيد عن 27 سنه
شهاده جامعية
اتقان الانجليزية
ترسل السيرة الذاتيه على
mohamed.moussa@mti-mmgroup.com
هذه الفرصه تشمل البنات والشباب
محمد ابوبكر
Employer: Very Reputable Real Estate Co. located in 6th of October
Job title: Sales supervisor
Exp: min 5 years, prefer in real estate field or other with excellent experience with a proven record
Qualifications: Hard working, self-motivated, open-minded, problem solver, confident, leadership and excellent communication & presentation skills
Language: Fluent in English, Arabic mother tongue
Computer Skills: Excellent in Microsoft Office (Word, Excel , PowerPoint, ….)
Salary: 4000 + V. good Commission + Social & medical allowance
Contact Person:
mohanad_omar87@hotmail.com
Please write in the subject line " Sales Supervisor"
‎4 STARS HOTEL IN KSA is seeking for :-
Hotel General Manager
Restaurant Manager
Banquet Manager
for interested candidates kindly send CV at:-
لسنتر تعليمى بمصر الجديدة -روكسى ومكتبة امام كلية الهندسة بالمطرية للادارة والسكرتارية وتصوير المستندات
مطلوب شباب وانسات مؤهلات عليا ومتوسطة خبرة وبدون
مرتبات مجزية يفضل التفرغ والقرب من مقر العمل حسن المظهر واللباقة
الاتصال على 01279420173
m.alsaadawy@elmaalygroup.com
متنسوش تسجلوا ايميلكم هنا علشان نبعتلكم كل الوظائف الجديدة على الايميل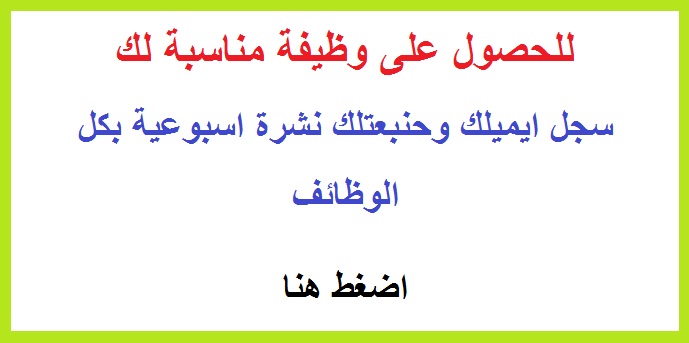 ---
,/hzt lojgtm ,/hzt l]vsdk ,/hzt lik]sdk ,/hzt fhgsu,]dm